It was a lovely day out in he garden. The leaves on the big trees still aren't falling but there was a bit of clean up to be done. I got a lot of praise for the (little) cleaning up and winter-prep I did. It was no hardship at all. It was a real pleasure. There's still a lot of colour in the plants as they wind down and prepare for winter.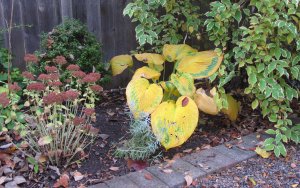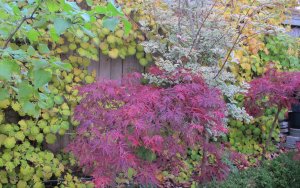 The hosta seems to like the new location and shows its appreciation in colour. Those two wee maples (right hand pic) are still in their pots, for about 10 years now. The dogwood in the middle and the hydrangea behind really make the red maples stand out.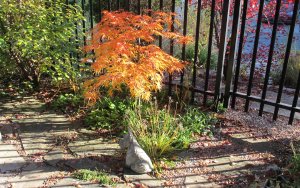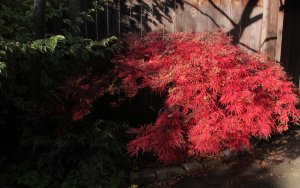 This maple (right pic) was grown from seed. In the fall its orange colour has this space all to itself. There are maples throughout the gardens.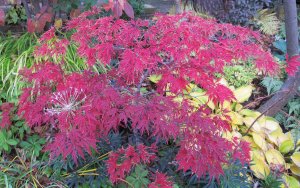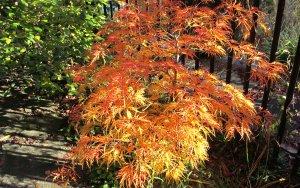 Another maple (left pic) in a pot (it grows a smaller plant that way). In this particular setting the view is always from above.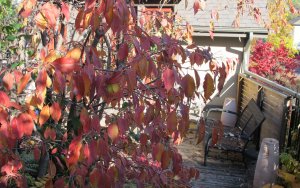 This dogwood (left pic) has been covered with mildew stain for the past few summers but this year we have managed to heal it enough to let it show true colours. Surprisingly, the Boston ivy (right pic) hasn't turned yet. The leaves on the pear tree are hanging on. This is a good sign.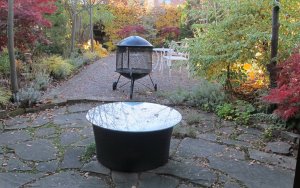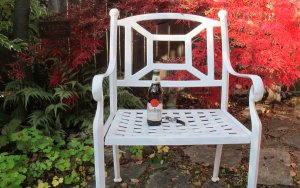 All in all, a well-spent few hours. I ended with a beer and a great view.