The life, death and rebirth of a much loved shrub – a variegated Weigela.
In our garden we rarely switch out a plant. Sure, if something gets too big and no longer meets the rule of, "right plant, right location", we make a change. Even then our first inclination is to relocate it. The shrub in these pics first entered the garden in 1991. It was planted in a garden that was much smaller than it is now.
In 2003 it was relocated to this spot. A spot better suited to what was to be it's mature size. Since then it has been pruned a number of times. Needless to say, like with all of our plants, we had bonded dearly with it.
During 2019 we were alarmed to see a significant loss of branches. Oddly, in only one section. That year we removed the dead branches. Although we were concerned we followed good advice to "leave and let live" and await results the following year.
When spring 2020 arrived we saw a total loss of life. What to do? After regular inspections we noticed a tiny shoot coming from one part of the root. It was time to coppice.
Coppicing is a type of hard pruning that can rejuvenate many shrubs. It might look drastic but it works – as evidenced by the pic taken two months after the surgical procedure. The Toronto Master Gardeners have a "How To" video you can screen here –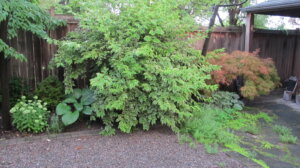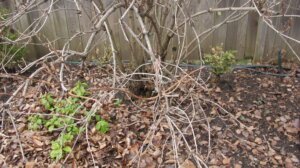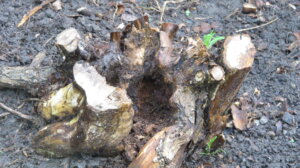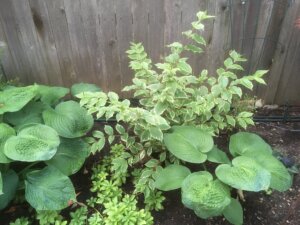 Shrub located in midtown Toronto, south facing bed, in heavy clay soil which has been augmented over years with compost, zone 5.